What's new about Ticket7D
You will find here what's new happening with us. Updates, scheduled downtimes, new events, new functionality, etc.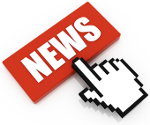 Brand new version of Ticket7D
Published on 2015-04-11
The brand new version of Ticket7D is lounched. Many new options, new report engine, actor pools with conflicts control added. You can read all new functionalite in details on the site.
We will upgrade all customer software installs till the end of the year.
---
Older news
You have questions?
Feel free to ask, we are happy to answer any question you have.
You can contact us via phone during work days 09:00 CET to 17:00 CET
Or you can contact us via our
Contact form